Before ASME
There was an earlier model engineering club in Auckland. This club was known as the Auckland (N Z) Society of Model Engineers and was formed in 1926 and lasted until late in 1934 after which the club ceased to exist.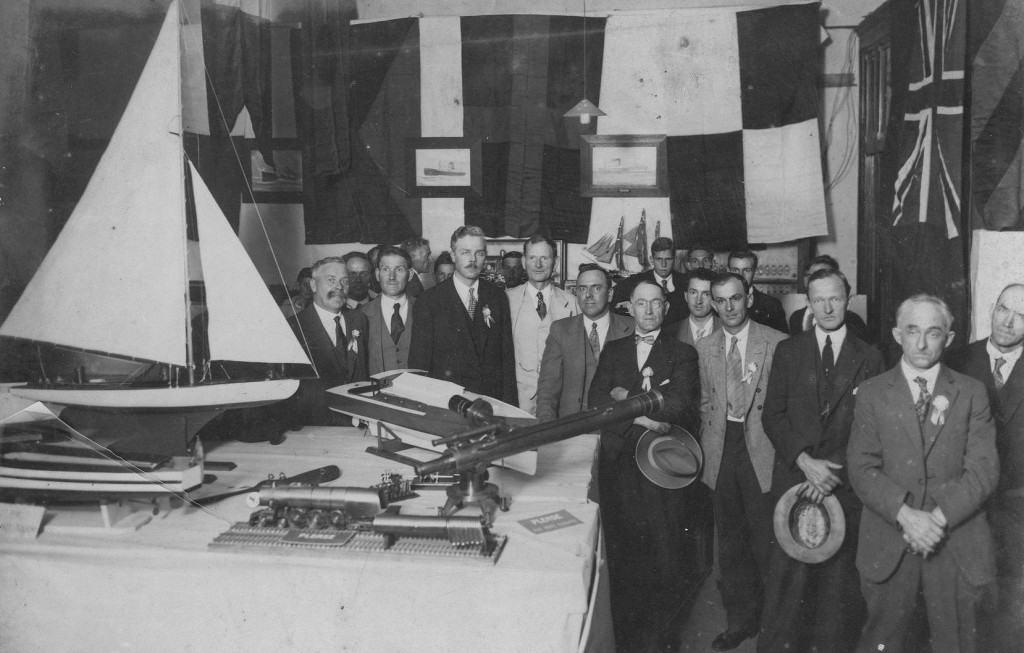 Exhibition held at Kingston Street in 1930
Members present L to R; Jack Graeme, Gamble, Abner Doble, Mackley, HH  Stewart, Dick Tabener, Frank Ball, three unknowns in rear, Ted Reston, rear Basil Wilson, Jim Lawler and Frank Roberts. Eme Moren will be one of the unknowns as his launch can be seen behind the telescope.
ASME Beginnings
In November 1959, a formative meeting was convened by Alex Peeling at his workshop at 36 Princes St, Onehunga, with the object of forming a Model Engineering Society. Those assembled agreed to form a new Society to be known as the Auckland Society of Model and Experimental Engineers (the original name for ASME). The Society was registered as an Incorporated Society on 28 September 1960. The search for a suitable  meeting place commenced; in the meantime general meetings continued to be held at Alex's house at first and thereafter at a variety of halls as the Club grew in size.
At the June 1962 meeting Les Fitt, a man who was to have the most profound effect on the club, mentioned during the course of the meeting that Mt. Wellington Borough ("MWBC") might have a place for the club railway track. Les contacted Jack Fitzgerald the Borough Engineer and in his capacity as a Warden of the Panmure Basin, six possible sites in the council area were evaluated.