At the 1981 Annual General Meeting, the president advised that Scale Marine Modellers ("SMM") were to start holding meetings in the ASME clubhouse on the second Wednesday of the month, which they still do to this day.
When the Mayor of the Mt. Wellington Borough Council ("MWBC"), Harry Bean officially opened the clubhouse extension in 1984 he praised the club for turning a derelict site into a peaceful well organised hobby venue. He also indicated that the council was prepared to consider a boating pool at, or close to, the track.
The SMM wanted a pond built in the lower eastern corner of the reserve and during negotiations with the MWBC, it was agreed on condition that SMM became affiliated with ASME. It is of interest to note the Borough Council was supportive of a boating pond for ASME while it was operating at the old Swimarama site.
It was not until October 1988 that the matter was finalised when SMM became affiliated to ASME. Before the pool was started they asked that the pool depth be increased to 600 mm, and to include a filter unit with a circulating pump, which was agreed to.
In February 1989 a bulldozer started work on the new boat pond, after much discussion between the clubs and the council. The project was considerably changed from the original drawings and instead of being made of concrete, it was lined with a plastic liner supported by a timber framework which cost much less than originally calculated. The pool complex was completed in August and it was officially opened by the Mayor of Tamaki City Council, Harry Bean on 16th September 1989.
In 1999 it was agreed that the affiliation arrangements would be disbanded and that SMM would return to renting the pond, the basement annex and the clubhouse for its meetings.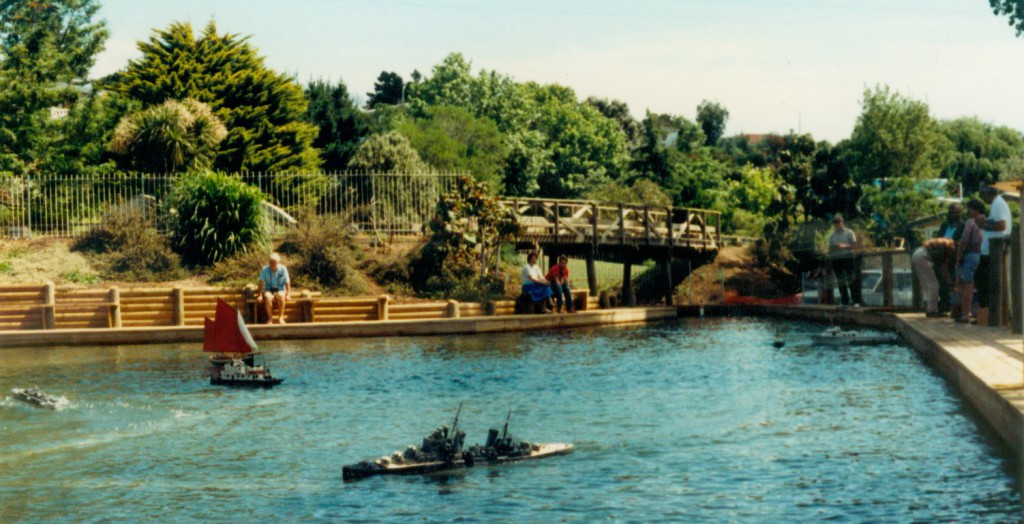 The boat pond on a Sunday afternoon in September 1989